Thursday, April 27, 2017 - 3:00pm ET

Featuring Beverly Serrell
Do you know what your visitors are really doing in your exhibitions? What you imagine or assume might be way off from what the actual data shows. In this webinar, we will walk through an imaginary exhibition and track and time ourselves. Will our imaginary data look like a real sample of visitors—where they went and how long they stayed?
Tracking and timing (T&T) is one of the oldest and most commonly used methods for conducting summative evaluations of museum exhibitions. Join Beverly Serrell (one the foremost experts—and literally the woman who wrote the book—on T&T) for a fun, participatory learning experience at 3:00 p.m. ET on Thursday, April 27, that will reveal the benefits as well as the limitations of T&T.
Webinar participants will see how the data moves from an observer with a data collection device, through a spreadsheet for numerical analysis, to the software for making histograms, scattergrams, and heat maps that display the data.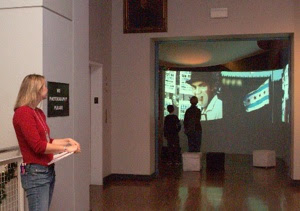 During this 90-minute webinar, Serrell will also discuss her efforts to establish and work with large sets of data from numerous T&T studies—enabling researchers to compare visitors' experiences and examine broader patterns across various sites and exhibitions—and to help researchers answer questions often posed by stakeholders, e.g., what are visitors doing and why?
Webinar participants will:
Learn the basics of how to collect, display, and interpret T&T data
Come away with a better understanding of what T&T can help them to accomplish (such as direct, unobtrusive observations of visitor behavior) and an understanding of where T&T studies can fit in among other indirect methods of evaluating museum exhibitions (including surveys and questionnaires)
Be inspired and better prepared to conduct T&T studies of their own exhibitions and gain access to a variety of resources that will help them reflect on and develop T&T skills
See the value in creating an in-house database of findings from T&T studies for comparison and planning purposes and learn more about other sets of data that can facilitate comparisons with exhibitions at other institutions.
Audience: This webinar will benefit museum and cultural institution evaluators, educators, and advocates for data collection and evaluation.
Presenter: Beverly Serrell, Serrell & Associates
Fee: $25 for ASTC/VSA members; $35 for nonmembers. The fee includes exclusive access to an archived recording of the webinar and a digital badge/certificate for participating in the live webinar